BarbryT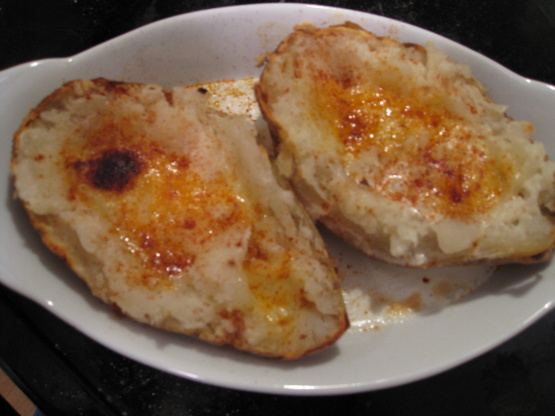 This is a recipe from one of my favourite cookbooks "Potato - the world's most versatile vegetable". It is based on baked potatoes with a rich, creamy cheese filling - and only has three ingredients! Serves 6 as a side dish.
Preheat oven to 200 degrees Celsius.
Scrub potatotes and pat dry.
Prick each one with a fork.
Cook directly on middle shelf for 1 hour 20 minutes.
Remove potatoes from oven and halve.
Place halves on baking sheet and make shallow dips in centre of each potato, raising potato up at edges.
Mix cheese and cream together and divide betwen potatoes.
Grill (broil) for 5 minutes until cheese has melted and started to bubble.
Serve hot, sprinkled with sea salt and black pepper.