ByNDii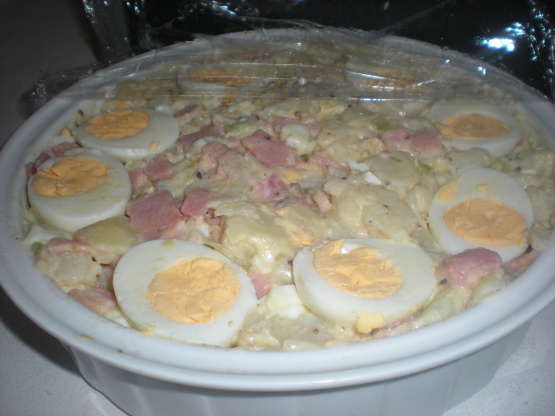 I've always loved my mum's potato salad, this is my rendition of it :) Hers is the exact same as this minus the honey mustard. I like to think the mustard adds a nice touch! Cooking time doesn't include fridge time - this tastes great having rested a few hours refridgerated after cooking :).

Definitely an outstanding potato salad, though I did take a couple of liberties with your recipe ~ I cut the amount of bacon in half & used a little over half a pound. Then, I steamed the potatoes & never did peel them, but just cut them into bite-size pieces with the peel, since the 2 of us enjoy them that way most of the time! This is certainly a recipe I plan on making again & again! Thanks for sharing it! [Made & reviewed for one of my adopted chefs in this Spring's Pick A Chef event]
Peel and cube potatoes, boil in salted water until just cooked, drain and cool.
Pan-fry the bacon until it reaches your preferenced cooking, I like mine crispy usually but in the potato salad I like it -just- cooked.
Chop 4 of the eggs roughly, and the other 4 into halves.
Gently combine the potatoes with all the other ingredients minus the halved eggs.
Scoop into the serving bowl, and decorate the top with the egg halves. Cover with cling wrap and rest in the fridge for a few hours prior to serving.
Serve and enjoy :).