Buttery Roasted Crushed Potatoes
gailanng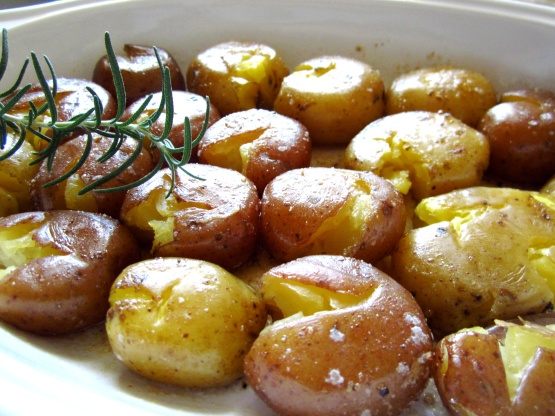 I got this idea from a magazine but tailored the technique and ingredients to my liking. These potatoes turn out buttery, crispy-golden-brown outside and moist inside.

Top Review by AQueen
Delicious and easy. The only change I made was to use fresh garlic and cut back on the salt in the boiling water. I loved how it fit into the timing of dinner. Boil potatoes while prepping chicken breasts for oven. Put chicken in oven while prepping potatoes for oven. Throw potatoes in oven and make salad and veg. Everything finished at exactly the same time!
Preheat oven to 375°F.
Place potatoes in a large pot, and fill pot with enough hot water to cover potatoes.
Bring to a boil over high heat. Add salt and boil for 15-20 minutes or until potatoes are fork-tender.
Once tender, drain water from potatoes. Set aside to cool slightly.
Place butter in a 9 x 13 inch baking dish and place in oven for 1 minute or until butter is melted. Remove from oven and stir in pepper, garlic powder and onion powder.
Using the curved back side of a fork and a cutting board, gently press potatoes to "crush" them. The "crushed" potatoes should break open but not apart too much.
Gently dredge both sides of each crushed potato in butter mixture in pan and arrange in one layer.
Roast for 15-20 minutes or until crisp and golden brown.