Buttery Pan Rolls (for the Bread Machine)
Marie Nixon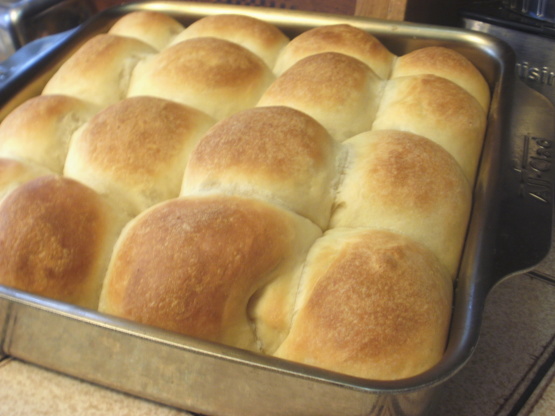 From a Favorite Brand Name Recipes book. I've made too many yeast roll recipes to count but these are my hands down favorite. I make them for all holiday meals and whenever bringing dinner to someone. It's really easy with the bread machine and everyone loves them. It's a lot of butter but don't scrimp, they're well worth it! I've doubled the recipe and either baked in two pans or in a 13x9 pan. If you do this, just watch the baking time and make sure the middle rolls are cooked through.

I tested about four different dinner roll recipes before finally deciding that this was the best one. I was a little nervous at first because it seemed that they weren't rising fast enough, but I was patient and waited until they had doubled before putting them in the oven. The end result was a light and buttery dinner roll. Took me straight back to my childhood. This recipe's a keeper!
Reserve 5 T melted butter.
Put all other ingredients in bread machine according to manufacturer's directions.
Program dough setting, press start.
Pour half of remaining butter into 8-inch square baking pan, tilt to coat bottom with butter.
Drop batter by rounded tablespoonfuls into pan, making 16 rolls.
Drizzle remaining butter over rolls.
Cover loosely with plastic wrap and let rise in a warm place until almost doubled, about 30 minutes.
Preheat oven to 400.
Uncover rolls and bake 12-15 minutes or until golden (check middle roll for doneness).
Cool slightly in pan on wire rack.