Buttery Microwave Scrambled Eggs for Two
ImPat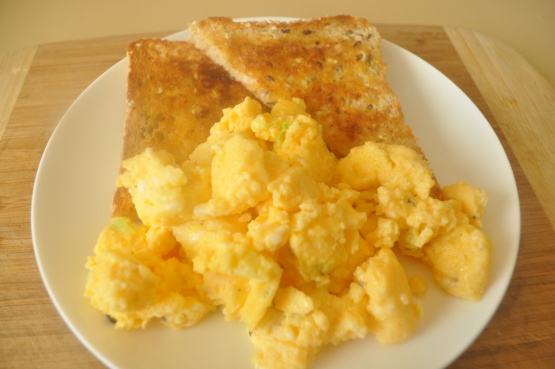 I came across this recipe over 10 years ago when I first learned I was diabetic. It's quick and tasty.
As written it is a bit bland and rubbery. I love my eggs in the microwave so I say add a bit more butter. Also add a bit of cream. Milk would be ok but cream (or half and half) is best (a teaspoon per egg or so). Parmesan is fantastic to add to eggs, just wait until they are almost done. Stir every minute or more. Salt and pepper at the absolute end. Great base recipe!
In 2 1/2-cup bowl, melt butter in microwave on high for 30 seconds.
Whisk eggs with remaining ingredients in a separate bowl until well blended.
Add egg mixture to the melted butter. Cover with vented plastic wrap.
Cook on medium-high for 2 1/2 minutes, stirring halfway through cooking.
Cook on low 30 seconds.
Let stand 1 minute before serving.