Anne B.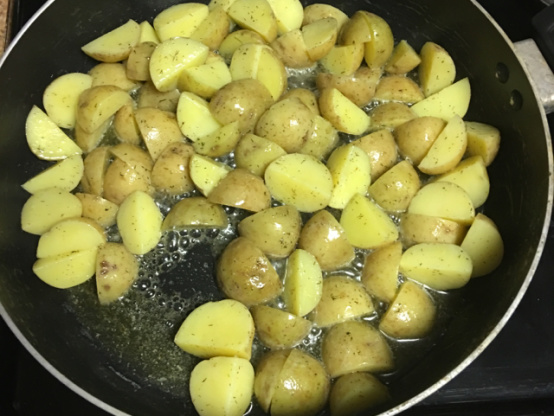 I was trying to find another recipe that would go really well with catfish or any fish for that matter. I experimented in the kitchen and came up with this.

Thanks Jeanette! These potatoes were great! Since we are trying to cut down on the fat for DH I used light butter and added garlic powder. DS gave these a 10.
6

medium red potatoes

4

tablespoons butter
1⁄2 teaspoon dried dill
salt and pepper
Wash and scrub your potatoes.
Cut into 1/2 inch slices or cubes (whichever you prefer) but leave the skins on.
Place potatoes into a large pot of salted boiling water and let cook for about 8- 10 minutes until potatoes are soft but not mushy and they hold there shape.
Drain and rinse with cold water to stop the cooking process.
Place your butter in a pan and melt butter with a medium-high heat.
Add your dill and mix well.
Place your potatoes in your pan and stir until potatoes are evenly coated with butter/dill mixture.
Saute another 5 to 10 minutes.
You can add more butter or dill depending on your tastes.
Season with salt and pepper.
Enjoy!