Buttery Cinnamon Cake W/Apple Compote
WiGal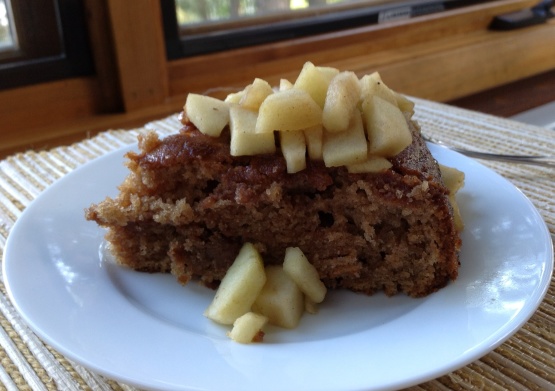 This recipe is from LCBO's Food & Drink Fall 2010 magazine. I had the cake at a dinner party last night and it was just delectable! Perfect for Fall. Use tart apples like Northern Spy, Empire or Spartans. The cake is best when served while still warm.

Wow this cake is fabulous. I made it yesterday for my BFF husbands birthday and we all loved it. I'm going to make it again next week for my mothers Birthday. I used golden delicious apples, because that's what I had and they were great. Top with whip cream. Thanks for this great recipe.
Preheat oven to 350°F Grease the sides of 9 inch springform pan and line bottom with parchment paper (you can also use bundt pan if preferred).
Combine flour, cinnamon, baking powder, baking soda and salt in bowl.
In a separate bowl, using electric mixer, beat butter and sugar until fluffy.
Beat in egg and vanilla until blended. Stir in flour mixture alternatively with yoghurt.
Spread into prepared ban, smooth top.
Bake for about 45 minutes or until tester inserted in the centre comes out clean.
For the glaze combine sugar, cinnamon and water in a small bowl, stirring to dissolve sugar. Remove ring from cake and brush top and sides with glaze.
While cake is baking prepare the apple compote. Combine apples, sugar, cinnamon, cardamom and lemon juice in a saucepan. Bring to a simmer over medium heat, stirring occasionally.
Cover, reduce heat to medium-low and simmer for about 5 minutes or until apples are tender but still keep their shape.
Remove from heat and stir in vanilla.
Serve warm with slices of cake.