Laudee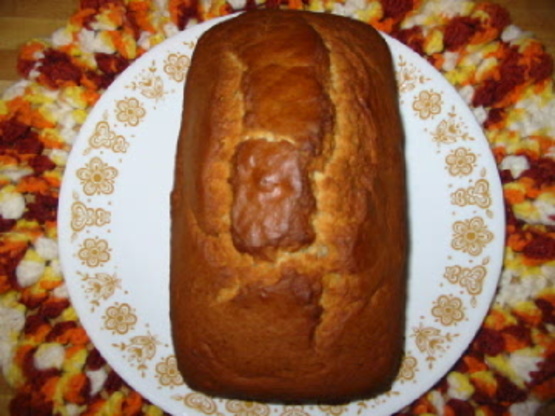 Very moist and nutty, this bread has a flavor of butter that lingers on the palate. The spices in this are very subtle, but if you like a spicier bread, just increase those for a richer flavor.

Top Review by Laudee
Excellent nanner bread! I loved the spices called for, but, did add a 1/2 tspn. of cinnamon. YUM! Real easy recipe to throw together and bake, and very tasty indeed! Thanks, Sue, we really enjoyed! Was fun making this for our cook-a-thon for you! Feel better, Laudee
Preaheat oven to 350F.
Cream together softened butter and sugar in a mixer at medium speed until lightly fluffy.
Add eggs one at a time, waiting a few moments after each addition to give time to blend.
Add the dry ingredients alternatively to the mixer with some of the banana, allowing each to blend before adding some of the other.
When all is mixed, fold in the chopped nuts.
Grease sides and bottom of a 9x5-inch loaf pan and add batter to it.
Bake in preheated oven for 1 hour or until it tests clean with a toothpick.
Cool on a rack 10 minutes, then remove from pan to finish cooling.
Dust with confectioners sugar (if desired), or you may use your favorite glaze (optional).
Store unused portions in refrigerator, wrapped in foil.