Calee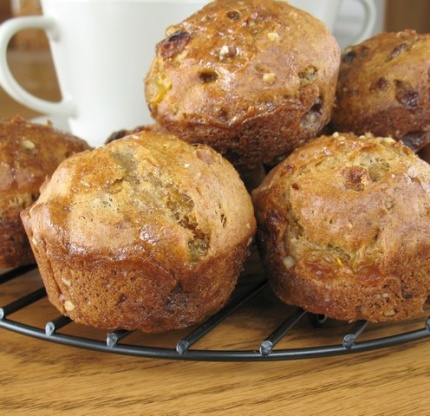 this muffin is dads favourite, I received this from my neice Kim, who also forgot to put in the butter the first time, and it still came out great, that is when we asked for the recipe in fact. Year 1983.
In a saucepan over med.
heat Stir in the raisins, butter,, sugar,, eggs, milk, and vanilla.
Stir over the heat for 5 minutes.
Just until thick, and just coming to a boil.
Remove from heat and add in dry ingredients.
Add in nuts.
Just until blended.
Pour into 12 muffin cups.
Bake 18 minutes at 350 degrees.
Remove when done and drop 1 tsp of Lyles Golden Syrup over the top of each while still hot.
Let cool in pan.
Remove from pan.
Thanks Andy.