Barb G.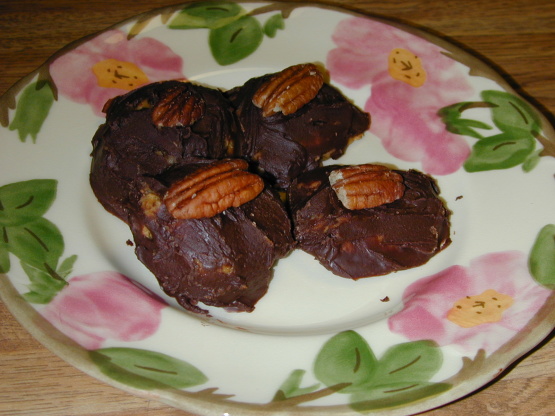 This Christmas Candy treat is a no bake recipe. Sweet, nutty (pecans or walnuts) and intoxicating (using buttershots liquor).
This are a very tasty candy, I used a chocolate Liquor instead of the buttersctoch schnapps. This is very yummy. The candy mixture goes together easy. I did have trouble dipping the candy in the chocolate. Found it was better to spread the chocolate onto the candy turtles. Thank you Rita for posting the recipe.
In a double boiler melt butter and chips blend in milk mix in buttershots and sugar.
Drop by small dollops onto parchment paper and freeze till set.
Melt chocolate chips and butter.
Dip into melted chocolate and top with an optional pecan.