Bayhill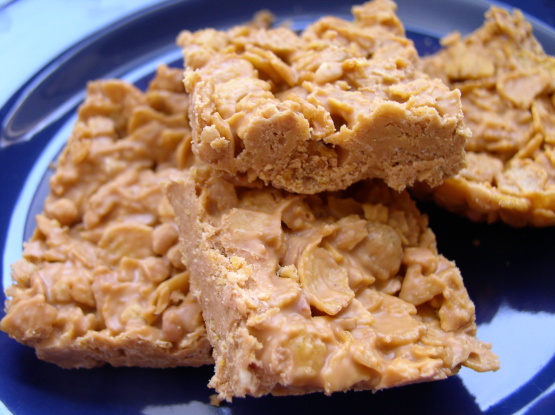 I got this recipe from a family member who brought it to every gathering...with good reason...it's so good! I made it once and took it to work. It was gone within 2 hours. I had to start making it a double batch just so everyone could have some. It is so easy, and so quick. It's a great last minute dish to take.

I made these for my peanut butter loving daughter. I used 1 cup of pb chips and 1 cup butterscotch chips. She loved them. Next time I will reduce the cornflakes by about a cup. Personally, I love the butterscotch chips better. These are very good and do not pull your fillings out like other recipes I've tried. 8-)
1

(12 ounce) bag butterscotch chips
1⁄2 cup peanut butter

5

cups corn flakes
In a large bowl, melt chips and peanut butter in microwave by heating it on low to medium power and stirring every 30 seconds or so till melted.
Add corn flakes and mix till flakes are well coated with butterscotch mixture.
Spread into 9" by 13" cake pan and press down lightly with wax paper.
Cool about 30 minutes.
Cut and enjoy!