Butterscotch Self-Saucing Pudding
Jewelies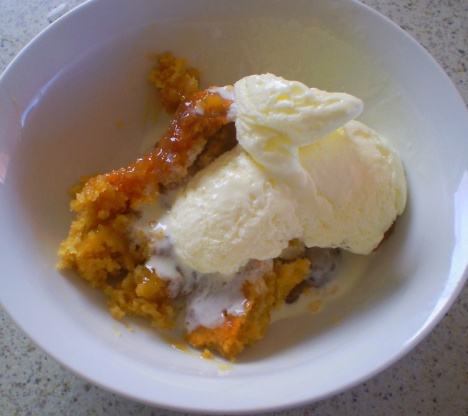 We made this today as a treat after Sunday lunch and everyone loved it. Served with homemade icecream and my personal favourite, cream! This recipe is posted in Australian measurements so 1 tablespoons equals 20ml (or 4 teaspoons).

Oh my,,,this was delicious comfort food, better than the syrup sponge I thought it would be. The sponge was light and the sauce rich and butterscotchy!!! The only change I made was to use my gluten free flour mix and 1 teaspoon of baking powder, I didn't even have to alter the temp or timing to cater for the changes, it was perfect. Thank you for sharing.
Preheat oven to 180°C.
Grease a 1.5 litre (6 cup) ovenproof dish with butter.
Combine 1/4 cup of the brown sugar and all of the flour in a bowl.
Add the melted butter, slightly beaten egg, milk and 2 tablespoons of the golden syrup and stir until combined.
Spoon into the greased dish.
Combine the remaining 1/2 cup of brown sugar and cornflour. Sprinkle over the pudding mixture.
Combine boiling water with the remaining 2 tablespoons of golden syrup.
Pour over the top of the pudding mixture and bake for 40-45 minutes or until a skewer inserted into the centre comes out clean.
Serve with double cream or ice cream.