diner524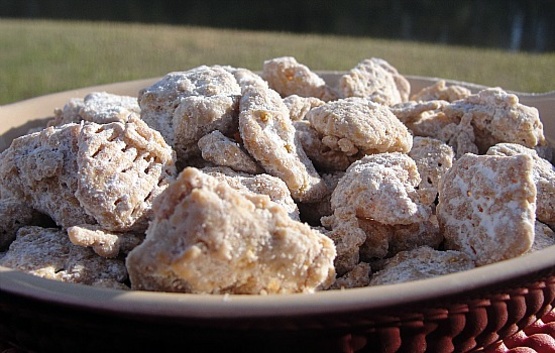 This is just my regular Crispix, or similar type of cereal, puppy chow recipe made with butterscotch chips instead of chocolate chips; my SIL suggested it. We ate probably half the batch that evening. After making a bunch of recipes with butterscotch chips, I suggest that you use a good quality chip. I have had trouble melting some of the store brands, although Aldi's brand always seems to work well.

Talk about addictive! It does keep well, overnight, if you put it away in a ziplock bag. but it does make for a really great snack!
Place the powdered sugar into a 1 gallon resealable plastic bag.
In a large microwave safe bowl melt the butterscotch chips for 1 minute.
Stir and heat for 30 seconds longer or until melted when stirred.
Stir in the peanut butter.
Stir in the cereal and mix until evenly coated; I use a big spoonula for this. Pour the cereal mixture into the sugar filled bag and gently toss the mixture to coat it evenly.
It says it needs to be stored in the refrigerator but I never have and mine has never stayed around longer than a day or two anyway. :-)
I am often asked to bring the chocolate version of this to my sister's house, I think next time I'll take a batch of each and see how it goes.