Butterscotch Krispie Marshmallow Brownies
Ann 3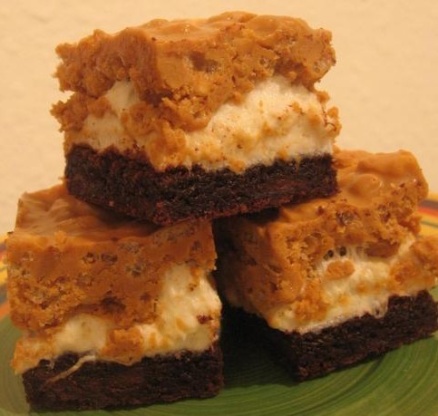 How can you go wrong? Every layer is delicious. To make this even simpler skip the brownies from scratch and use a good box brownie mix. We love the Ghirardelli Triple Chocolate Brownies...yum!

These are delicious!!!!!! I brought them to a party and got a compliment from everyone there and also got several requests for the recipe!
preheat oven to 325 degrees.
BROWNIE LAYER.
(follow directions below to make from scratch or you can choose to make box brownies -- I use Ghirardelli Triple Chocolate Brownies!).
In a small bowl combine flour, baking soda and salt. Set aside.
In saucepan, bring butter, sugar and water to a boil. Remove from heat.
Add 1 cup chocolate chips and the vanilla, stirring until smooth.
Transfer to large bowl and add eggs, beating well.
Gradually blend in flour.
Stir remaining 1 cup chocolate chips into mix and spread into foil lined and greased 9 x 13 pan.
Bake 15 minutes. They will be a little underdone, but this is ok.
MARSHMALLOW LAYER.
Remove brownies from oven and cover top with mini marshmallows.
Return to oven for 5 minutes.
Remove from oven and allow marshmallows to solidify.
BUTTERSCOTCH KRISPIE TOPPING.
In saucepan over low to medium heat melt peanut butter, butter and butterscotch chips until smooth except for the nuts.
When marshmallow topping has cooled, stir the cereal into the mixture and spread over the top of the marshmallow layer.
Refrigerate until the topping is set.
To cut you can brush a knife with oil.