Butterscotch & Honeycomb Self-Saucing Pudding
Chickee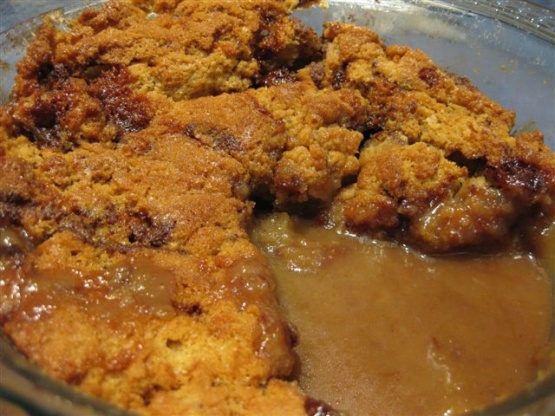 I think this was in an old issue of Super Food Ideas. This is for individual puds but I made one large pudding from this. This is not for those watching their waistlines but a great sugar fix recipe! Sorry no photo it was gobbled up too quick.

Oh yum this is my favourite butterscotch pudding yet! I loved the crunchy top given by the honeycomb. It was so easy to make and unfortunately easy to eat! My DH loved it too, although didn't like the sauce as much but that's OK because I like LOTS of sauce!
Cream butter & sugar until light and fluffy. Gently fold in flour alternately with milk until smooth.Stir in crunchie pieces.
Spoon mixture into greased 1 cup moulds until 3/4 full and arrange on a baking tray.
Prepare Sauce: Place butter, water & sugar into a saucepan and stir over low heat until sugar has dissolved. Bring to the boil.
Reduce heat & simmer gently until golden, remove from heat.
Carefully blend in extra water and stir over low heat until smooth then set aside to cool slightly.
Spoon sauce evenly over puddings and bake at 180.C for 35-40 mins or until cooked.