Annacia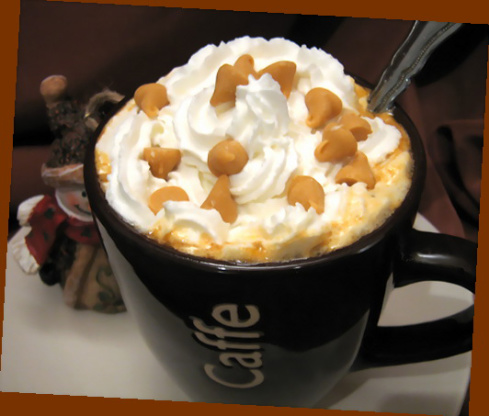 I found this recipe in a little booklet from TOH I'm putting this here so I won't lose it. Try it and tell me what you think. Please note: prep and cook times are estimated

This is a great little coffee and I can't believe that I'm the first to review it! I made a single serving and that is a good thing because if I had more I would have just kept drinking. I used Splenda for the sugar and I was too lazy (plus, I wanted the coffee NOW) to make the fancy garnish so I just put some butterscotch chips on top. I'm sure that it would be prettier that way but I'm sure that it wouldn't have tasted any better. Made for Comfort Cafe, Jan 09.
In a small bowl, heat 1/2 cup butterscotch chips at about 70% power until melted, stirring occasionally.
Cut a small hole in the corner of a small plastic bag (or use a pastry bag fitted with a #4 round tip) and fill with the melted chips.
Pipe eight little garnishes onto a waxed paper lined baking sheet and refrigerate until set (10 to 15 minutes).
In a large pitcher, stir the hot coffee and remaining butterscotch chips until chips are melted.
Stir in cream and sugar.
Pour into mugs and top each serving with whipped cream and a garnish.