Butterscotch & Chocolate Chip Cookies
pammyowl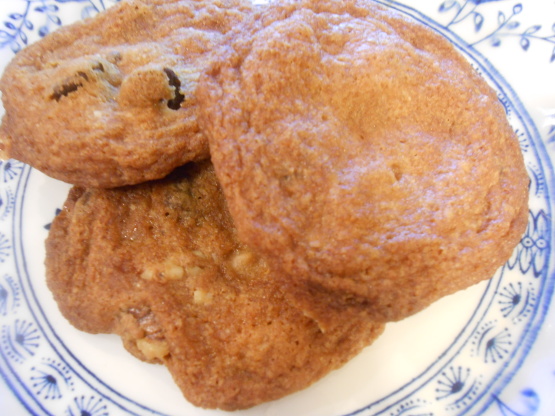 Yummy! 1 year olds-adults love these cookies. I made them while I was baby sitting.

These cookies are really just okay. Pros: -Crispy outsides -Chewy insides Cons: -WAY too many chips. Should be cut in half. It's almost impossible to even roll these into a ball. -Buttery. All you can taste is butter! I disagree about them being flat, though. I thought with such little flour they would be, but the size was actually decent. Just too many ingredients shoved in a low-dough cookie. And too much butter vs flour.
Combine flour, baking powder, and salt in a bowl.
Beat butter and white+brown sugars in an other bowl.
Add vanilla.
Add eggs and beat between each one.
Mix in flour Mixture.
Make walnut sized cookies and place on greased cookie sheet.
Bake for 11 minutes at 375* F.