PaulaG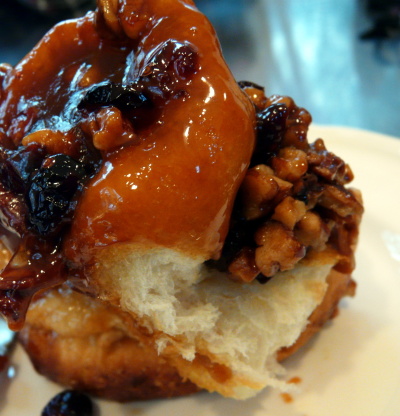 Similar to Monkey Bread. Pecans work best but you can use other nuts or leave them out. Will become a fast favorite.

I got this recipe from The Essential Mormon Cookbook (cute book whether you're from Utah or not!) and had to try it immediately. I accidentally used instant pudding, but otherwise followed the recipe exactly. They tasted great, but after cooling down they became a bit 'tacky' and hard to chew. I am sure its because I used the wrong pudding, and next time I think I wont bake it so long. Anyways, thanks for sharing this, it's an otherwise great recipe!!
Arrange frozen rolls in a greased bundt pan.
Sprinkle pudding, brown sugar, and pecans over rolls.
Drizzle butter over all.
Cover bundt pan with a dish towel or plastic wrap and let rise at room temperature overnight, or about 12 hours.
Remove towel.
Bake at 350F for about 25 minutes.
Cool 5-10 minutes before inverting to a serving plate.
Serve warm.
Makes 18 rolls.