Katzen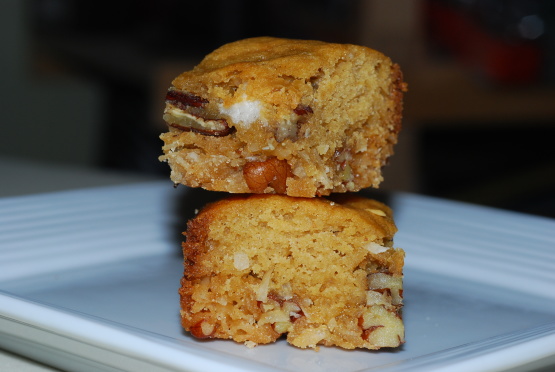 From Better Homes & Gardens - a rich and delicious treat!

rich is right! and very sweet. Came together well, but when it cooled, I cut it and it was still oozey inside. I gave it 10 mins in a pre heated oven to "set" the middle.
I took this to a function, and everyone "nibbled " it, and said it would be great with ice cream, but most people found it just a tad too sweet.
made for Aussie swap Oct 2011
In a small saucepan, melt 1/3 cup butter. Add 2/3 cup brown sugar, coconut, and 3/4 cup pecans and mix well. Pat mixture evenly into a greased 13x9x2 baking pan.
In a large mixing bowl beat 1/2 cup butter on medium-high speed for 30 seconds. Add 1 cup brown sugar, baking soda, and salt and beat until combined.
Beat in eggs and vanilla until combined. Add flour and beat well.
Stir in 1/2 cup pecans and marshmallows.
Spoon small mounds of batter over base in pan. Carefully spread to cover.
Bake for 20 minutes at 350 degrees. Mixture should be evenly browned; center may jiggle slightly when shaken. Cool in the pan on a wire rack. Cut into bars when completely cooled.
If desired, serve with a drizzle of caramel topping.