Butterscotch Banana Bread
chia2160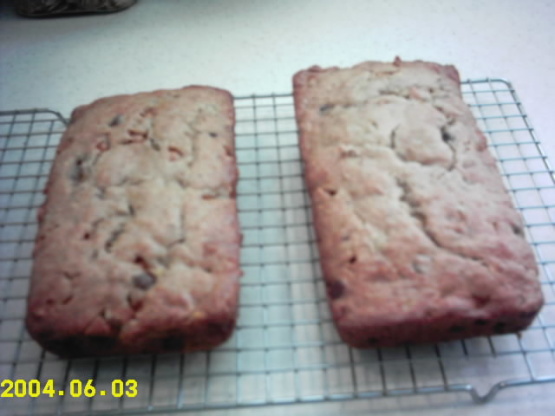 My favorite recipe for banana bread, and one I didn't see here when I searched. Use the best quality butterscotch chips you can find for this. They partially melt into the bread as it bakes, carmelizing slightly, to make a very wonderful bread...actually, much more like a cake. I will also usually add a few tablespoons of chocolate chips, to make it an even better treat. The ingredients halve easily for one loaf. The recipe is from the National Pike Inn, New Market, MD. NOTE: The bread might not rise that much, or brown too much, but it is still wonderful!

Ok all you chefs out there...I read the reviews on how this bread wasn't rising so I looked into it and changed up the ingredients a bit to get some added lift.Heres what I came up with based on this web site www.kingarthurflour.com/tips/quick-bread-primer.html. Because of the chips additional baking soda needs to be added and some form of acid to to also be added to cause the b.s. to activate.Soo here is what I did- I replaced half the sugar called for with dark brown sugar,added 1-TBSP apple cider vinegar when I added the banana,and I increased the baking soda by 1/2 tspn.In addition I also made sure to whip each egg in really well.I filled my mini loaf pans 3/4 full and I am proud to tell you that my loaves rose beautifully up over the top of the loaf pans.One thing to also consider...it is very important that you work quickly once you add the baking soda to the wet mix.The acid causes the b.s. to activate but it doesn't keep working for forever.Literally, it ceases to work so if you don't get your pans into a hot oven as soon as possible the bubbles pop and you loose the lift.Also I used cinnamon chips instead of choc chips just cuz it sounded good.Hope this helps all of you chef want to be's!
Preheat oven to 350.
Grease two 8" loaf pans (or spray well with non-stick spray) Cream together the butter or margarine, eggs& sugar (as Kim D suggested, if you add the eggs one at a time, beating well after each addition, the loaf should rise a little better).
Add the bananas.
Then add the flour, baking powder, salt, baking soda, cinnamon, and nutmeg and blend together.
Fold in the butterscotch chips (and chocolate chips if desired).
Divide batter between the two prepared baking pans and bake for 25 to 30 minutes, or until firm in the center.