Butternut Squash With Onions & Pecans
Ambervim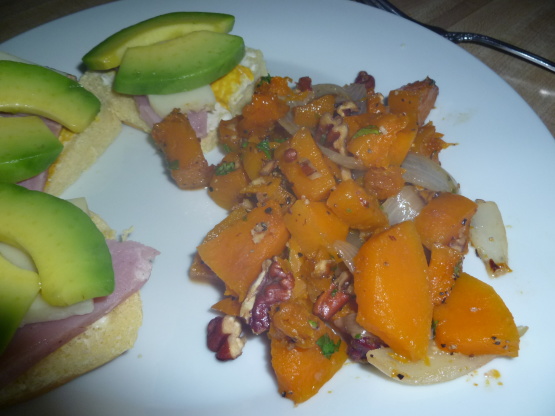 I was gifted with butternut squash from someone's garden. I'd never made butternut squash before, but I know I like it! This is what I culled together from various recipes.
Spread pecans on a cookie sheet and bake for 5-8 minutes at 350, watching carefully; set aside to cool.
Melt butter in a large, lidded skillet and add the garlic and onion.
Saute over medium low heat until onions are clear.
While the onion is cooking, place squash in a covered microwavable dish, and cook 5-8 minutes.
When the onions are done, add the vanilla, squash and brown sugar.
Toss lightly to coat, cover, and cook for an additional 10-15 minutes.
Transfer to serving dish and toss with pecans, parsley, salt and pepper.