Butternut Squash With Lebanese Spiced Ground Beef and Garlic Yog
JustJanS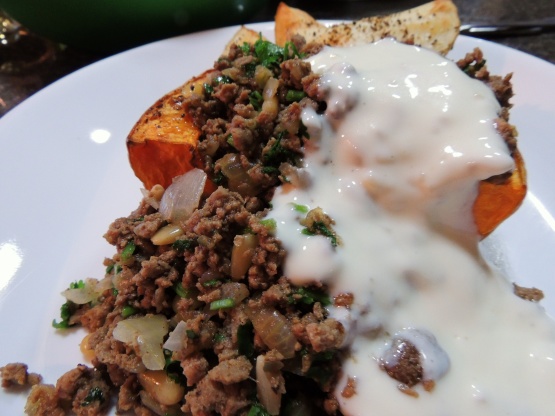 A very delicious Autumn/Winter dish. "Roasting really concentrates its buttery, nutty flavour and when split lengthways, the empty seed cavity begs to be stuffed, turning it into the perfect portion-control meal for one. " Modified from The Sunday Times article by Lindsey Bareham.

Top Review by Kaysma
This was amaaaazing! I only used 125g ground meat (but didn't reduce the amount of anything else). I used http://www.food.com/recipe/baharat-spice-blend-224763 for the spice blend and omitted the pine nuts as I didn't have any on hand. I also added a touch of cumin and a finely chopped fresh mint leaf to the yogurt sauce. My butternut was exactly 600g and took 35 mins to roast - perfect timing for the rice I made along side - dinner on the table in 45 min from start to finish. So incredibly good that I'm doing it all over again tomorrow haha! Thanks for sharing this fantastic recipe - so simple, but so different from the regular. Yum.
Pre-heat the oven to 425F/220C/gas mark 7.
Using a strong, sharp knife, halve the butternut lengthways. Scrape out and discard the seeds. Extend the cavity by cutting out chunks of squash. Don't be too fussy about this because you want plenty of butternut to remain. Cut a light lattice all over the flesh to speed up cooking.
Use 1 tbsp olive oil to smear the surface lavishly. Season with sea salt and freshly ground black pepper.
Roast for 35-45 minutes or until the flesh is meltingly tender. (Check before end of cooking time as hopefully you have a ripe squash but if you don't it takes longer).
Meanwhile, peel, halve and chop the onion.
Heat the remaining 1 tbs olive oil in a spacious frying pan and cook the onion for about 10 minutes until limp and uncoloured.
Finely chop the excavated butternut.
Add the mince, increase the heat slightly and cook, stirring and breaking up clumps of meat. If using extra lean like I do add some canola oil to keep the meat less dry! It will take about 6 minutes to be browned all over.
Add chopped butternut squash.
Stir in the cumin, baharat, sea salt, to taste, freshly ground black pepper, to taste, and pine kernels. Cook for a couple of minutes.
Add water, simmer, cover and cook for 8-10 minutes. Remove the lid and cook briskly until juicy but not the least bit wet or greasy.
Taste and adjust the seasoning.
Chop the parsley leaves. Stir into the mixture.
Spoon it into the cavity and over the cooked squash.
To make the yoghurt, peel, chop and crush the garlic with a generous pinch of sea salt (discard the green central shoot). Beat into the yoghurt with the lemon juice and 1 tbsp of the best olive oil you have.
Spoon the yoghurt over the butternut and serve. (We do this at the table).
Enjoy!