Butternut Squash & Sweet Potato Curry
James M.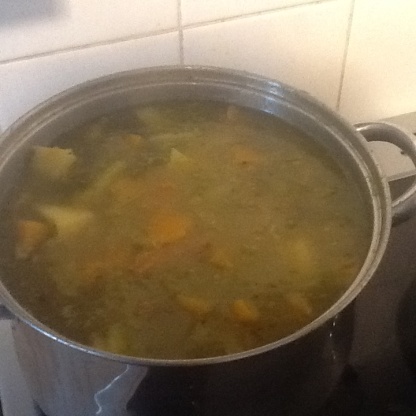 Good, clean, wholesome vegetable dish for anyone who likes the taste of curry to enjoy

Great tasting meatless dish! Loved that it could be put together quickly - it simmered while I made coucous.
2

tablespoons vegetable oil

1

large onion, chopped

3

garlic cloves, crushed

1

lb butternut squash, peeled and cut into 1-inch cubes

2

medium sweet potatoes, peeled and cut into 1-inch cubes

1

lb potato, peeled and cut into 1-inch cubes

1

large cooking apple, peeled, cored and cut into large chunks

2 -3

teaspoons curry paste (you choose the strength!)

1

teaspoon turmeric powder

1

inch fresh ginger, grated

2

cups vegetable stock
salt & freshly ground black pepper
Heat the oil in a large saucepan and fry the onions for 4 - 5 minutes until golden.
Add the garlic, squash, sweet potatoes, potato and apple. Stir in the curry paste, turmeric powder, ginger, bay leaves, stock and seasoning to taste.
Bring to the boil, stir well, then cover for 15 - 20 minutes until vegetables are cooked to liking. Stir from time to time.
Serve with boiled basmati rice.