Butternut Squash Soup With Sage
atm1970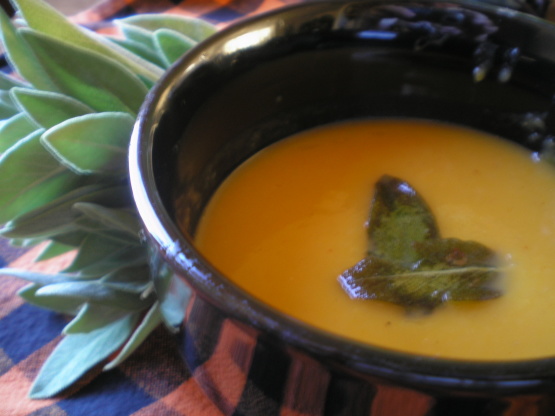 I've made this soup for company and it is always a hit.

What a perfect soup for the rainy days we've been having! My sage is still flourishing, luckily, because that really makes the soup. I wouldn't have thought of sage with winter squash (probably because I grew up with family who sugared any form of it to death!) I'll probably skip the cayenne, like another reviewer--it didn't add much for me, but of course my spice-o-phobe daughter picked right up on it. I will definitely be making this again! Thanks for sharing!
Heat oil saucepan over medium heat. Add squash, apples and onion and cook until almost tender.
Stir in sugar, coriander and cayenne pepper.
Cook and stir 2 minutes.
Add broth.
Bring to a boil. Cook over low heat 10 minutes or until squash is tender. Using a slotted spoon, place cooked squash mixture in blender or food processor.
Cover and blend until smooth, adding enough cooking liquid to reach desired consistency.
Heat butter in a small skillet. Add sage and cook until crisp. Remove and drain on paper towels.
Divide soup among four bowls. Drizzle each with sage butter and garnish with fried sage leaves.