ACDKMomma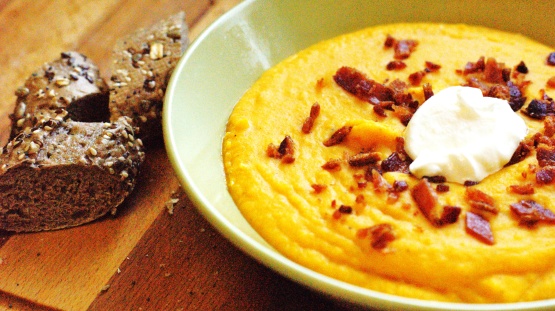 Good comfort soup. I like to make extra bacon to crumble on top. It does have a little heat to it, so if your taste buds are sensitive, cut back on the red and black peppers. Recipe comes from Southern Living.

Our family loves this recipe! Tonight I skipped the bacon for the first time and overcooked (to the point of being nearly carmelized) the onions, carrots, celery and apple. It was unanimously the best batch yet! We have some new diet limitations so had to skip the dairy this time, but it was not missed a bit. The first two times I made it exactly as written and it was excellent that way as well.
Cook bacon slices in large pot until crisp.
Remove bacon and drain.
Reserve 2 tbsp drippings in pan.
Crumble bacon and set aside.
Saute onion and carrots in bacon drippings over medium-high heat for about 5 minutes (until onion is tender).
Add celery and apple to pan and saute 5 minutes.
And garlic and saute 1 minute.
Add squash and chicken broth.
Bring to a boil, reduce heat and simmer for 20 minutes or until carrots are tender.
Process mixture, in batches, in a blender or food processor until smooth.
(Hot mixtures will erupt out of blender if too full- believe me I know).
Return mixture to pot.
Stir in lime juice and next 7 ingredients.
Simmer for 7-10 minutes or until thickened.
Top soup with crumbled bacon and garnish with sour cream and red pepper.