Bergy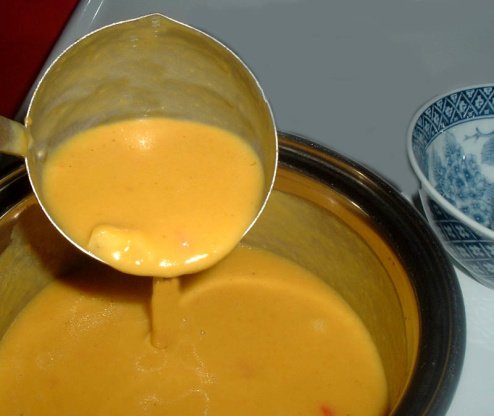 One of my favorite ways to enjoy this type of squash!

I liked this soup, but thought was a bit bland, so I added a rounded teaspoon of chicken bouillon granules to it, which gave it more flavor, plus I added 6 Tbsp. of finely chopped onion, 4 tsp. of jarred minced garlic, the 4 stalks of celery, but w/o the leaves, plus I added white pepper instead of the black pepper, and added 1-1/2 lbs. of the butternut squash, which I'm glad I added more than the recipe called for, or the soup would of been a bit too runny. I cooked the squash, (along w/the other ingredients) for exactly 23 minutes. I thought the bacon bits and sour cream, made this soup taste even better. The first time I used Hormel Real Bacon Bits, and the second time I tried it, I used a cheaper brand, and found that when using the cheaper brand, the bacon bits must sit in the soup for a minute or so before adding the sour cream (to softened up the bacon bits). I much prefer the Hormel Brand of Bacon Bits to any other brand. Also, I think one should add the bacon bits first to the soup, then the dollop of sour cream. One more thing, be sure to cut the squash into 1/2-inch cubes, rather than into slices. Thank you for the recipe Dragonfly AZ, it was good.
Heat oil in large, heavy saucepan. Add onion and garlic, cook, stirring often until softened.
Stir in celery and spices. Cover and cook for about 2 minutes.
Add 1 can broth,water and squash. Cover and bring to a boil, then lower heat and simmer until squash is tender.
In batches, process in food processor or blender until smooth, adding chicken broth as necessary to make desired consistency.
Pour into bowls and garnish with a dollop of sour cream and a sprinkle of bacon bits.