Butternut Squash, Rosemary, and Blue Cheese Risotto
Z-cook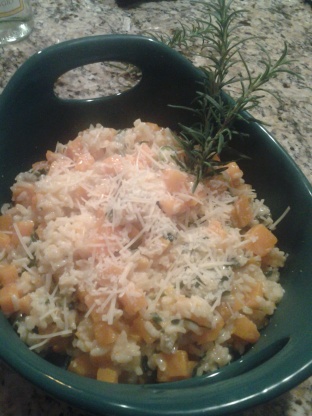 From Bon Appetit. Served this with a side of roasted salmon. Absolutely divine. I used a bit more stock than called for near the end of cooking time, just to make it a little creamier.

This is a delicious recipe and very easy to make - a great side with meat as well as fish. Only thing I would say is that the recipe says it makes 4 servings - it's more like 10 servings! If you really only want 4 servings as a side, make half the recipe!
Bring 7cups broth to boil in large saucepan.
Cover and reduce heat to low.
Melt butter in large heavy pot over medium heat.
Add onion and sauté until tender, about 5 minutes Add squash and 1½ teaspoons rosemary; sauté 4 minutes to coat with butter.
Add rice and stir 2 minutes Add wine and simmer until evaporated, about 1 minute Add 7 cups hot broth, bring to boil.
Reduce heat and simmer uncovered until rice is just tender and risotto is creamy and slightly soupy, adding more broth by ¼ cupfuls as needed to maintain consistency and stirring occasionally, about 18 minutes Stir in spinach, cream, and Parmesan cheese.
Transfer risotto to large bowl.
Sprinkle with blue cheese and remaining ½ teaspoon rosemary and serve.