Butternut Squash Risotto With Sage
Rita1652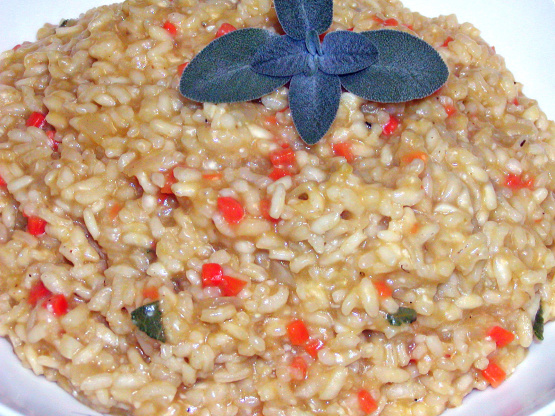 A little labor intensive...but worth the trouble!

One of the best risotto dishes I've tried! I used vegetable stock instead of the chicken broth. I also pan fried a few of the leftover sage leaves in butter and used these as a tasty edible garnish to place on top of each serving. I also added 1/3 cup of the parmesan cheese to the risotto and reserved the remaining cheese to sprinkle on top. Brilliant recipe. Thanks for sharing.
Cut enough squash into cubes to make 3 cups. Coarsely shred enough remaining squash to equal 2 cups; set aside.
In a 2 qt saucepan heat broth and 4 cups of water to maintain a simmer and cover. In a 5 qt dutch oven melt butter. Add squash chunks, pepper 2 tbls sage and salt. Cook covered stirring occasionally until squash is tender. Remove squash to a bowl.
In same dutch oven add olive oil, shredded squash and onion cook stirring often until veggies are tender. Add rice and cook stirring frequently (2 minutes) add wine and simmering broth 1/2 cup at a time, stirring after each addition until all liquid is absorbed and rice is tender but firm (approx 25 minutes) stir in diced squash, parmesan cheese and remaining sage. Heat through.