Butternut Squash, Rice and Sausage Casserole
PaulaG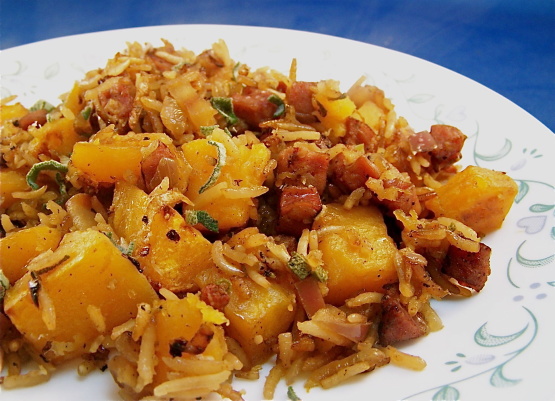 A cold-weather hit from our CSA newsletter.

Everyone in the house loved this--the vegetarian and the meat eater! Used a vegetarian sausage instead of real sausage, used veggie broth, and had to replace rice with barley (oops!), but it turned out great. Next time, would add a larger/tarter apple, and possible stir more cheese into the casserole itself instead of just on the top. But even my pickiest eater, not a veggie fan, loved this. Thanks for sharing! Oh, and I loved roasting the squash this way--much easier to peel and clean!
Preheat oven to 350 degrees.
Place squash on a baking sheet and bake for 30 minutes or until tender. After allowing squash to cool, cut it in half lengthwise, seed, quarter and peel it. Then cut it into 1/2-inch cubes and set aside.
Increase oven temperature to 400 degrees.
In a medium saucepan over low heat, bring broth, water, and sage to a simmer without allowing it to come to a boil.
In a large nonstick skillet or wok, heat 1 teaspoon of the olive oil over medium-high heat and brown the sausage; set aside.
In the same skillet, saute onion in remaining olive oil over medium-high heat until tender.
Add the apple and garlic, and saute for two minutes.
Add the rice, and saute for an additional minute.
Stir in the sausage, squash, broth mixture, wine, chopped thyme, salt, and pepper, and cook for 5 minutes, stirring occasionally.
Place the casserole mixture in a 13 x 9-inch baking dish coated with cooking spray.
Bake at 400 degrees for 30 minutes.
Remove casserole from oven, stir mixture gently, and sprinkle with cheese.
Return to oven and bake for an additional five minutes, or until cheese is melted and bubbly.
Allow to cool for ten minutes before serving.