Vraklis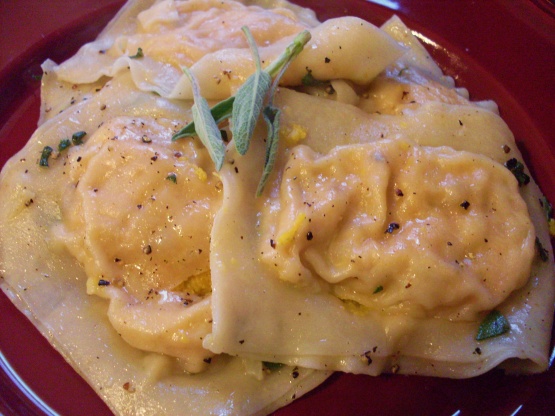 Jumbo ravioli filled with squash make an impressive dinner. And easy cheats cut the prep time by more than an hour. Wonton wrappers, substitute for laboriously homemade pasta, while frozen squash gets dressed up with freshly grated parmesan. I found this recipe in Good Housekeeping. I have not tried this ravioli but I'm posting this for safe keeping.

The raviolis are amazing! I used one whole butternut squash and one whole acorn squash instead of the frozen stuff. I doubled the recipe and there were plenty of raviolis to feed 4 adults with extras left over for lunches (which I loved!). The only thing I will change next time is the actual ravioli stuffing part. It just took too much time since I made it on a week night when I don't have much time to prepare and cook a meal. I will make the stuffing the same (it was delicious), but next time I'll try stuffing it into giant shells or manicotti to save time. Also, when I served this dish, it reminded me of perogis, so I served them like perogis. I topped them with sour cream and shredded cheese and they were wonderful this way.
In small nonstick skillet, heat oil on medium 1 minute. Add onion and cook about 12 minutes or until tender and lightly browned, stirring occasionally. Cook squash in microwave as label directs; cool slightly.
In medium bowl, combine onion, squash, parmesan, bread crumbs, whole egg, nutmeg, and 1/4 teaspoon each salt and freshly ground black pepper. In small bowl, whisk together egg white and water.
Place 1 wonton wrapper on work surface. With pastry brush, brush egg white along edges; place 1 rounded tablespoon squash filling in center of wrapper, keeping filling away from edges. Top with second wrapper; press down firmly around filling to seal ravioli, pushing out any trapped air. Place ravioli on cookie sheet. Repeat with remaining filling and wrappers, using a second cookie sheet so that ravioli do not overlap. Let ravioli dry 30 minutes, turning over halfway through to evenly dry both sides.
Ten minutes before cooking ravioli, heat large saucepot of salted water to boiling on high.
Add ravioli to pot; cook 3-5 minutes or until tender, stirring gently to separate ravioli.
Meanwhile, in 4-quart saucepan, cook butter on medium 3-4 minutes or until golden brown, stirring. Remove from heat; stir in sage and 1/8 teaspoon each salt and freshly ground black pepper.
With large slotted spoon, lift out ravioli, 1 at a time; drain, still held in spoon, lift out ravioli, 1 at a time; drain, still held in spoon, lift out ravioli, 1 at a time; drain, still held in spoon, on paper towels. Transfer ravioli to saucepan with butter; gently stir to coat.