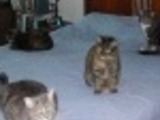 Before I knew the difference between a butternut squash and spaghetti squash, I bought the former by accident and discovered the taste was much better than spaghetti squash in this recipe. There are other spaghetti squash recipes posted but IMHO this is simpler, lighter and fresher tasting. There is less clean-up involved too. I think the original recipe was based off one I found in The New Basics cookbook.
Directions
Preheat oven to 400 degrees.
Cut squash in half, scoop out seeds, peel and cut into 1-inch cubes. (Received a suggestion from a more experienced chef here on 'zaar, peeling will be easier if squash is cut into smaller chunks first.).
Toss with garlic and olive oil and pour mixture into 2 quart baking dish.
Bake, uncovered, for 30 minutes, stirring twice. Meanwhile, chop tomatoes.
Remove baking dish from oven, add salt and pepper and mash the squash up a bit with the back of a spoon. In the following order, top with tomatoes, mozzarella cheese, parmesan and scallions.
Return to oven and bake, uncovered, for 30 more minutes or until hot and bubbly and cheese has melted.
Reviews
Most Helpful
So good!!
Yummy! I made some variations (added cut-up sausage links, canned diced tomatoes, had to use American cheese, wild onion grass instead of shallots and most importantly, less cooking time!) but this dish was very tasty and beautiful. Will make it a regular cold-weather meal. Thank you!
A different taste combo. Thanks for posting!