Butternut Squash and Vanilla Risotto
Maggie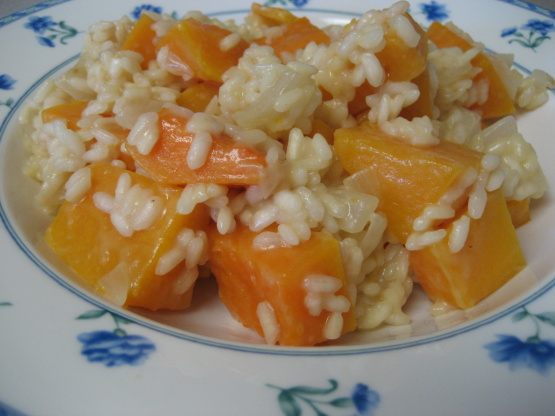 From Giada DeLaurentiis. Don't let the vanilla scare you!
In a large pot:.
Simmer broth and vanilla.
Add squash and simmer until tender (about 5 minutes).
Remove squash and cover to keep warm, keep broth on low heat.
In a separate pan:.
Melt 2 tbsp butter and add onions. Cook onions until transparent, do not caramelize.
Add rice and toast for about 3 minutes, making sure to coat with butter/onions.
When rice is toasted, add white wine and stir until almost evaporated.
Add 1/2 cup of broth, stir until absorbed.
Repeat last step until all the broth is gone and the rice is creamy (will take about 20 minutes).
When rice is creamy, stir in squash, parmesan cheese, and last tablespoon of butter.
Serve immediately and enjoy!