Butternut Squash and Pear Soup
dicentra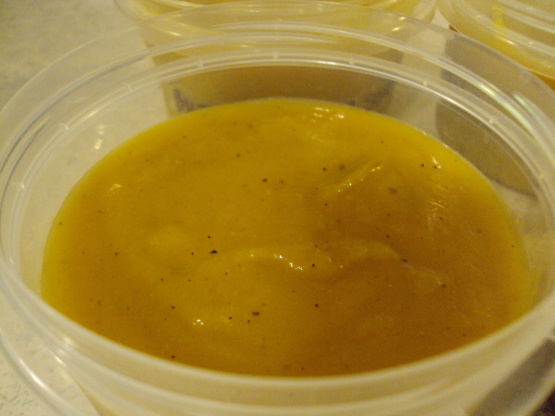 From http://lowfatcooking.about.com

This is excellent! I more or less doubled the recipe, using a whole butternut squash. I had a ton of pears to use up, which is sort of how I found this one to begin with. I used my lemon curry powder, which is a bit lighter in flavor. Perfect. Used vegetable buillion, making this vegan. Double bonus! Made about 8 cups (8 servings for me). Froze most. Thanks! Great recipe.
2

teaspoons olive oil

1

cup finely chopped onion

1

tablespoon curry powder

1

lb butternut squash, cut into 1-inch pieces (about half a medium squash)

2

ripe medium bartlett pears, peeled, cored and cut into 1-inch pieces
3 1⁄2 cups fat-free low-sodium chicken broth or 3 1⁄2 cups vegetable broth
Heat oil on medium heat in Dutch oven or soup pot.
Gently sauté onions until softened—about 5 minutes.
Add curry powder and stir, sautéing for 1 minute.
Add butternut squash and pear pieces.
Sauté for 3-4 minutes.
Pour in chicken broth and bring to a boil.
Reduce heat to low, cover and simmer for 20 minutes until squash and pear are tender.
Transfer soup to a food processor or blender and purée until smooth, working in two batches if necessary.