Butternut Squash and Chicken Pasta
David W.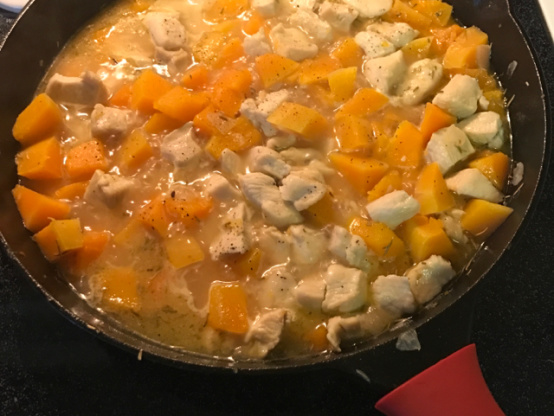 The butternut squash somewhat melts into a delicious sauce coating the chicken and the pasta with all its lovely goodness. I got the idea from Everyday Italian's Giada DeLaurentis but left out the shrimp, eggplant and use chicken instead.

I thought this recipe was delicious! I followed the directions exactly with the only change being that I added in 2 tbsp cumin during the simmering process for some extra flavor and left the stove on medium high the entire time. I also let it simmer for about 20 mins instead of ten, which worked out perfectly. The sauce turned out at the perfect consistency and I poured it over whole wheat penne regatta and topped it with a dash of fresh parmesan. Quick tip to cut down prep time with squash - get a Vidalia chopper or similar accoutrement and microwave squash about 3 mins, peel, chop into large circles and use chopper to form small squares - only takes a few minutes! Thanks Texas Ladybug!
Heat the oil in a heavy large nonstick frying pan over medium heat. Add onion and saute until tender, about 5 minutes. Add the garlic and saute for just a minute. Add the cubed chicken and cook through. Add squash, rosemary and saute for 8 to 10 minutes. Add the broth and bring to a simmer over medium-high heat. Decrease the heat to medium-low and simmer until the squash is tender and the liquid is reduced by about half, stirring occasionally, about 10 minutes. Season, to taste, with salt and pepper.
Meanwhile, bring a large pot of salted water to a boil over high heat. Add the pasta and cook until tender but still firm to the bite, stirring often. Drain pasta.
Toss the pasta and squash mixture in a large bowl until the liquid thickens slightly and coats the pasta. Transfer the pasta mixture to a wide shallow bowl and serve.