Butternut Soup With Pears and Apples
karen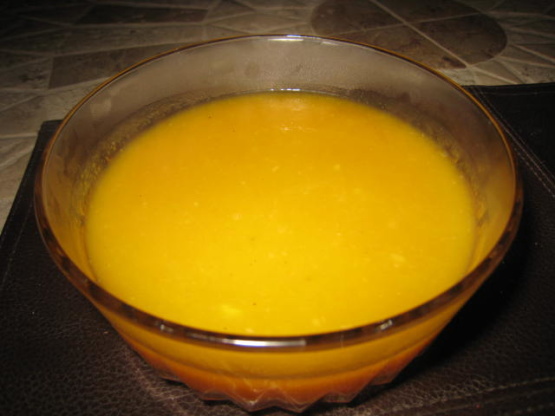 From Cooking Light. Per 1 cup serving: 117 calories, 2.2 g fat, 1.2 g protein, 25.5 g carb, 2.3 g fiber, 4 mg cholesterol.

I found this soup to be very bland and WAY TOO sweet. I left out the maple syrup altogether, and then tried to up the flavor by adding ginger, a little clove, and chicken stock instead of vegetable stock. It was still too sweet. Would probably make a nice small appetizer portion but for a meal the flavors are just not appropriate.
Melt the butter in a large soup pot over medium-high heat.
Add in onion and celery; stir/saute for 4 minutes or until tender.
Add in squash and the next 8 ingredients; bring to a boil.
Partially cover, lower heat, and simmer 30 minutes or until tender.
Throw out bay leaf.
Transfer half of squash mixture to the container of a blender or food processor; process until smooth.
Pour puree into a bowl; repeat procedure with the remaining squash mixture.
Return all puree mixture to soup pot; stir in syrup.
Cook over medium heat for about 5 minutes or until well heated.
**Could use stick blender in soup pot instead of pureeing in blender.