Rita1652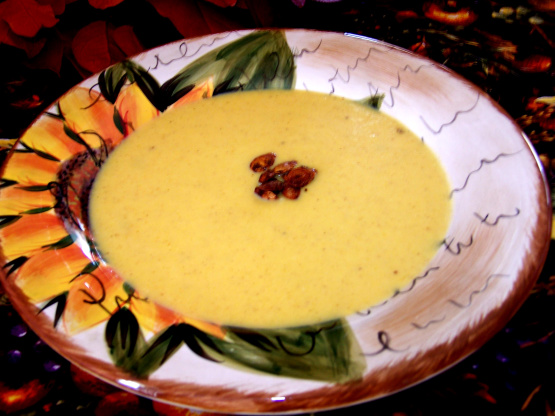 I've made this soup fast, tasty, and easy! It 's creamy fruity with a slight kick from the ginger. A real comfort soup. I don't peel my squash just blend it up smooth in a vita mix or any high powered blender. You never know it's in there. But your body will love you for it! This I tried to keep low in fat and sugar by using low fat milk and pears in a light syrup. In the picture I garnished with Spicy Roasted Butternut Seeds / Pumpkin Seeds and fresh ripe pears slices. Alternate method for pureeing butternut Pureed Squash Butternut, Acorn Any Hard Winter Squash!

Fabulous! But here are my changes. I had everything in my pantry (I was amazed) except curry powder so I left that out, although I was upset to find out my pears had corn syrup on them (grr), so I used fresh instead. It takes longer than 10 minutes to cook the onions until golden, and I did more of a deep golden for more flavor. I did not use milk, I used more chicken stock in place of the milk. We served it with a fresh fruit salad, fresh homemade rolls and a good ham. The saltiness of the ham went perfect with the sweet soup. My mother and I agreed that milk would have made it too desserty. Although I may try it with coconut milk. We didn't use milk at first due to allergy, but loved it without it anyway! Thanks!
Slice butternut into 4 and remove seeds and fiber.
Place in a microwave oven and cook till tender for 10-15 minutes.
Meanwhile saute onions in butter for 10 minutes till golden brown then add brown sugar and spices cook for 5 more minutes over low heat. Add broth to deglaze the pot!
Cube squash and if you have a good blender like a vita mix you don`t have to peel just put it in you blender along with all the ingredients and process till smooth.
In a pot add all ingredients and simmer 10 minutes.
Taste and season with salt and sherry if desired.