Butternut Macaroni and Cheese (With Squash)
Tau8053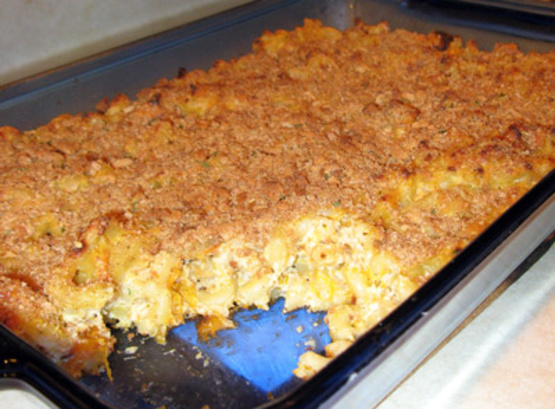 I found a recipe for mac and cheese with butternut squash, then another and combined them and added a few twists of my own. This is a delicious fall meal!

WOW! My kids loved this. And they found out halfway through that it had a big helping of squash in it. their only complaint was that it didn't really taste cheesy. I used Monterrey Jack and Swiss, so next time I definitely be using a sharp cheddar. I also used half whole wheat pasta and half regular, which worked wonderfully. I wasn't really wowed by the cottage cheese (my standard ricotta replacement), because it was too chunky for me. I think I will leave it out next time, as there is plenty of sauce for this. :) We will be making this again, what a great one dish meal! thank you for sharing.
preheat oven to 425.
combine squash, olive oil and salt and pepper.
roast squash for about 40 minutes until it's tender and getting lightly browned.
reduce oven temp to 350.
meanwhile, heat butter in a large skillet and saute onion, garlic and sage about 5 minutes.
stir in flour 2 minutes.
add milk and bring to a boil, whisking until thick.
stir in cheeses, cayenne, nutmeg, salt and pepper to taste.
add squash, smashing with a whisk until desired consistency.
cook pasta al dente, combine with sauce and pour into a greased casserole. Top with bread crumbs and bake 30-40 minutes.