This is a very simple recipe to make those breakfast waffles - enjoy!!
Directions
Preheat the waffle iron,.
Mis the flour, sugar, baking powder, baking soda, and salt together in a bowl.
In a separate bowl, combine the eggs, buttermilk and melted butter and stir until well blended. Add the wet mixture to the dry ingredients and mix until completely smooth.
Using a pastry brush, lightly brush the waffle iron with melted butter. This prevents the waffles from sticking and also gives them a nice golden color. Do this for every waffle.
Pour about 3/4 - 1 cup batter into the hot waffle iron. Bake the waffles until golden brown. Continue until all the batter is used up.
Most Helpful
These were VERY good...nice & light...just the way I like 'em!!! I added a capful of vanilla to the batter. Will most definately make these again...THANKS for sharing!!!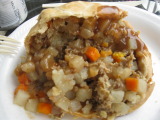 These waffles have a wonderful taste. They were moist inside and crispy outside. Thanks Chef mariajane :) Made for All you can cook buffet
Very nice crispy basic waffle. I used three eggs, and beat the egg whites separately and stirred them into the batter at the end. A bit more work, but I think it makes fluffier waffles. I will use this as my basic waffle recipe. (Fogot the stars the first time).