Buttermilk Scalloped Potato & Onion With Swiss Cheese
Derf2440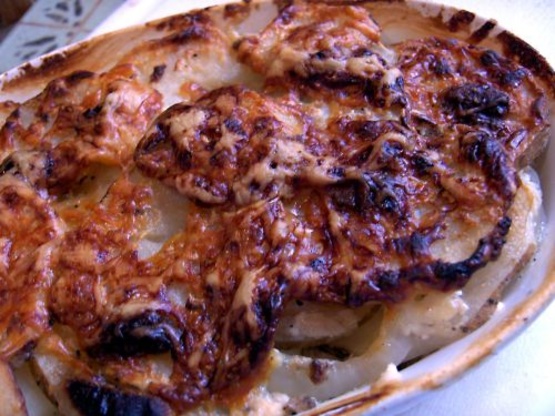 Lovely crunchy top and soft juicy inside.

Nice recipe. I wasn't actually sure how much potatoe to put, my potatoes weren't really large so I put 2 medium (which = just under 1 lb) & that seemed to be just about right. I also guessed on the salt & pepper but I think I went alittle crazy on the pepper. For the cheese I used a swiss/havariti mix (2 oz) & added 1/2 way through cooking. We like our potatoes quite soft so I baked closer to 60 mins. Thanks for sharing your recipe.
Preheat oven to 350°F.
Mash together the mustard and the butter with a tablespoon of buttermilk; set aside.
Pour enough of the buttermilk to cover the bottom of an au gratin dish. Layer onion slices and potato slices alternately; sprinkle salt and pepper to taste over each potato layer and put blobs of the butter mixture on each layer of potato; ending with a potato layer and butter mixture blobs. Pour the rest of the buttermilk over all. Open layers a little with a fork as you pour to let the buttermilk through.
Sprinkle Swiss cheese shreds evenly over the top. Bake for 45 minutes to 1 hour or until potatoes are fork tender and top is browned and crunchy.