Keltria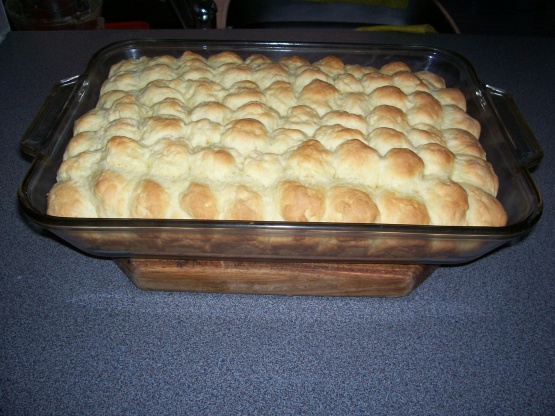 These are a wonderful quick breakfast and are lovely as a snack with a cup of coffee or tea.

YUM! I didn't do the whole ball rolling thing as we never used to make our rusks this way. I just put the whole lot into one huge roasting pan and cut them up when slightly cooled. I dried them on about 80 degrees C (fan forced) from about 11:30 that night until 6 or so the next morning. These were yummy as. The only mistake I made was bringing them out when our relatives came over. They were ALL gone in half an hour!
Preheat oven to 240°C.
Sift the dry ingredients and stir til well mixed.
Cut in butter - the mixture should resemble corn meal when done.
Beat buttermilk and egg together and add to dry ingredients.
Mix to a firm dough.
Pinch off golf ball sized pieces of dough and press lightly into rectangular shape approx 2cm thick.
Place close together in two greased loaf pans (30cm x36cm x 7cm) and brush the sides of each row of balls with oil so that the rusks will break apart easily after being baked.
Brush with diluted milk.
Bake at 240C for 10 minutes, then reduce heat to 190C and bake for further 50 minutes.
Turn out on cooling rack and break in two or three places so that the rusks will cool more quickly.
When cool, break neatly into individual rusks and allow to dry out in a very low oven (120C).