Jo_C.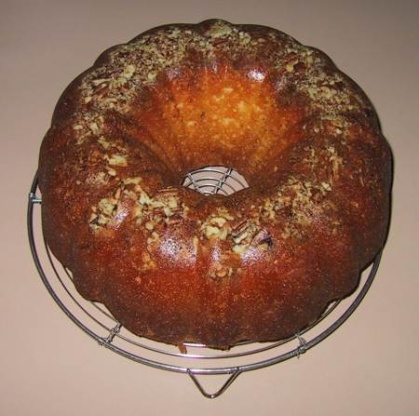 We always make this around Thanksgiving and Christmas. When we make it, instead of a tube pan, we use a bundt cake pan

Top Review by Caryn
I'm always on the lookout for a good/different pound cake recipe, and this one did not let me down! My pound cake was sweet and buttery with a lovely texture that only buttermilk can produce; the cake melts in your mouth. I did not add the chopped pecans or lemon flavoring (some lemon haters in my house). I baked my cake at 325 degrees F for approximately 1hr 10min (1 1/2 hours would have been too long) - check your cake about every 5 minutes after you have baked it for an hour to check for doneness. I baked two pound cakes, and will be defrosting one next week to take to my DD's elementary school for Teacher Appreciation week. Wonderful recipe!
Cream together sugar and butter- add eggs and beat well.
Alternately add milk, soda and flour to above mixture- adding flour last.
Add in Flavorings, and mix well.
Grease tube pan.
DO NOT FLOUR.
Spread chopped nuts evenly on bottom of pan and pour batter over nuts.
(nuts maybe omitted).
Bake at 310 to 325 degrees for 1 1/2 hours.
Let cool slightly before removing from pan.