gemini08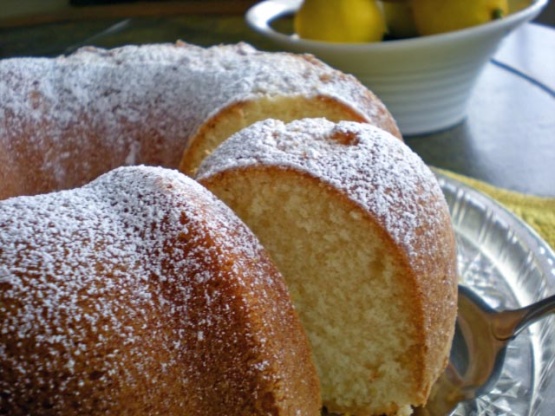 This versatile cake is quick to mix up and tastes wonderful! It has been a winner in my family for over 35 years. The recipe originally came from an aunt of mine.

I used both lemon and almond flavoring and this tasted terrific. We live on a military base, so consequently I have an old, unpredictable oven, which is I'm sure the reason my cake was somewhat dry. The flavor was so awesome, though, I cut it up and layered it with some homemade strawberry-lemon jam and homemade custard filling. Yummy. I'll make this again and again.
2

cups sugar

3

eggs

1

cup shortening
1 1⁄2 teaspoons flavoring (vanilla, almond, lemon or whatever you like)

3

cups flour
1⁄4 teaspoon baking soda

1

teaspoon salt

1

cup buttermilk (or substitute 1 cup sweet milk with 1 Tbsp. lemon juice stirred in)
Cream sugar, shortening and eggs.
Add flavoring.
Combine dry ingredients.
Add dry ingredients alternately with buttermilk.
Pour batter into greased and floured tube cake pan.
Bake for 1 1/2 hours at 300°.
Cool 10 minutes and turn out of pan.
VARIATIONS: Add 1 cup of chocolate chips, melted, to batter for chocolate cake.
Add grated orange or lemon peel for orange or lemon cake.