PaulaG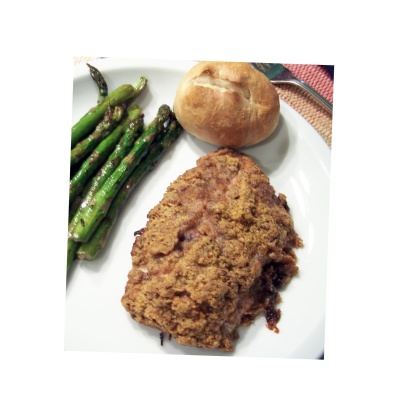 We recently took a trip to Hotel Limpia in Ft. Davis, TX. They had this wonderful cookbook of hotel favorites and this recipe was included. This is a hotel favorite that is occasionally served as a dinner special. Simple but elegant. The chicken can be cut into strips and prepared as directed and served as an appetizer with honey mustard or ranch dressing for dipping.

Loved it! I made this last night with two substitutions. Turns out I didn't have any pecans so I used walnuts. And to make it healthier, I left out the egg and the butter, spraying the breaded chicken with pam so it would brown up nicely. It was delicious even with the substitutions. I'll definitely be trying it again after I buy some pecans :)
Preheat oven to 375 degrees.
Combine the flour, pecans, paprika, salt and pepper in a shallow dish.
Combine the egg and buttermilk in a second shallow dish.
Rinse the chicken breasts and pat dry with a paper towel.
Place the chicken between sheets of wax paper and flatten with mallet.
Dip the flattened breats into the buttermilk mixture and then dredge in the flour mixture.
Pour the melted butter into a baking dish; add chicken, turning once to coat with butter.
Place in oven proof dish and bake for 30 minutes.
Chicken should be golden brown, garnish with fresh parsley, thyme or sage.