Boomette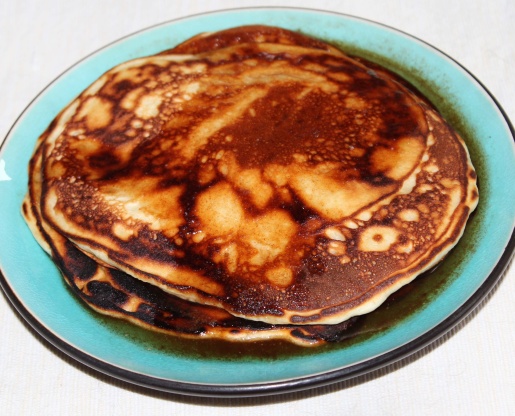 These are a favorite of my familiy. They are light and fluffy. The buttermilk is the key.

I make pancakes maybe once a year, so they have to be from scratch. I used your great recipe and as promised the cakes were light and fluffy and mixed up in a jiffy. I didn't have buttermilk on hand so I made my own using lemon juice in milk and used 1 cup whole wheat flour and 1 cup white flour. I also used a thinly sliced banana and pecans in DH's batch cuz he was jonesing for banana nut pancakes. Thanks for a great breakfast!!
Use just one bowl.
Beat eggs.
add buttermilk then add baking soda.
Stir.
Add flour, sugar, salt, and baking powder.
Stir.
Fold in oil (Do Not over stir, a few lumps are okay).
Lightly grease or spray a griddle heated to 375 (I just heat my griddle over medium heat on the stove).
Spoon 4" circles of batter and turn when puffed up and full of little bubbles.
May add blueberries, chocolate chips, or drained pineapple bits after batter is poured.