Boomette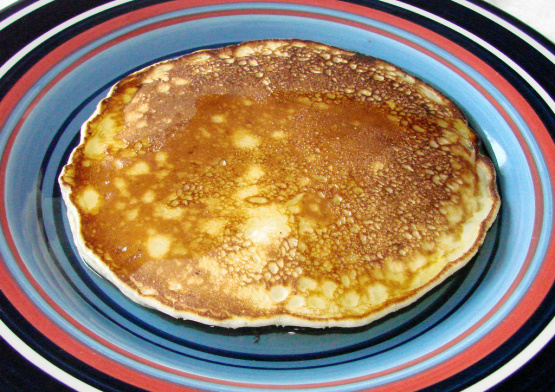 From the Gourmet International Pancakes and Waffles Cookbook circa 1970. My mom gave me this book when I first moved out on my own. I just recently tried the buttermilk pancake recipe and I can say that we haven't used another pancake recipe since. Light, fluffy, and absolutely delicious. Before this my family preferred a box mix (yuck!) so I am so glad I found this very simple recipe. This feeds my VERY hungry family of 3 sufficiently so I would definitely double if you have a larger family.
Place sifter into a medium sized bowl. Sift flour, sugar, baking powder, and salt.
Combine the eggs, buttermilk, and melted butter in another bowl (I use a large liquid measure).
Add wet ingredients into dry ingredients and whisk together until combined.
For each pancake pour 1/3 cup batter (for a pretty large pancake) into a preheated skillet on medium heat that has been melted with butter or sprayed with non-stick spray. Once bubbles start to form and pop in the middle, flip the pancake and brown on the second side.
Serve with your choice of topping. We like homemade syrup, or jam with sour cream and vanilla yogurt.