loof751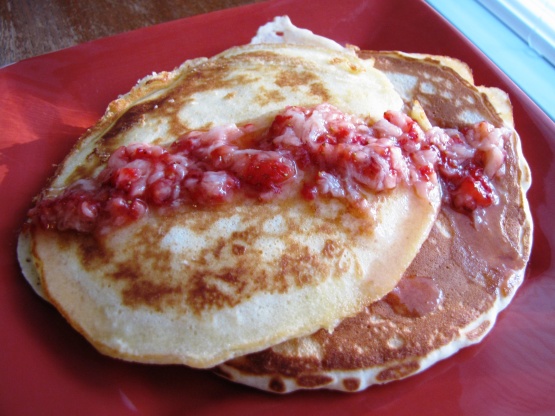 My husband and I don't have kids, and sometimes we like to make pancakes. This is a perfect size recipee for the two of us.

Definitely a five-star recipe! These pancakes were light, crispy and delicious. I doubled the recipe yesterday and my family of four devoured them. My 16-year-old asked for them again today so I made a batch for him just now and they came out perfectly again. Great recipe!
Whisk together flour, baking powder, baking soda, salt and sugar.
In a separate bowl, mix the egg, buttermilk, and butter. Add to the flour mixture and mix until just combined (Lumps are ok!).
Cook pancakes on griddle as usual, greasing the pan with extra melted butter. One pancake uses about 1/4 cup of batter.
Serve with your favoriate pancake topping.
If you wanted to make a large recipe, try freezing the pancakes for the kids!