Annacia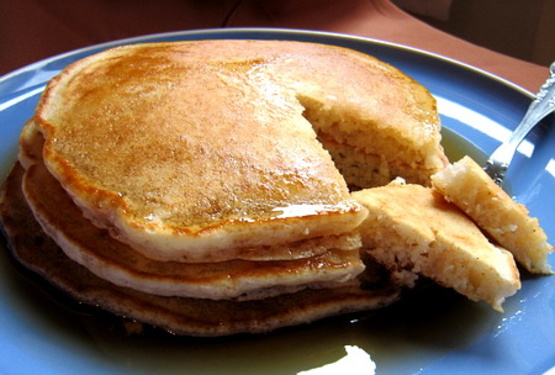 Another pancake recipe. From "Fine Cooking Holiday Baking Magazine". Super quick and super yummy.

Buttermilk pancakes are the best pancakes. Quick easy and delicious. Made for I recomment.
In a medium bowl, whisk the flour, baking soda, and salt until well blended.
Add the egg, oil, and buttermilk and whisk only until no dry flour is visible; the batter should be lumpy.
Heat a griddle over medium heat until a sprinkle of water sizzles gently across the surface.
Lightly oil the surface and drop the batter by generous tablespoons about 2 inches apart onto the griddle.
Cook each pancake until the bottom is golden brown, tiny bubbles appear around the edges, and the edges look dry.
Flip and cook until the center of each pancake rises and is firm when poked in the center and the bottom is golden.
Serve immediately on warmed plates with syrup or jam.