Lvs2Cook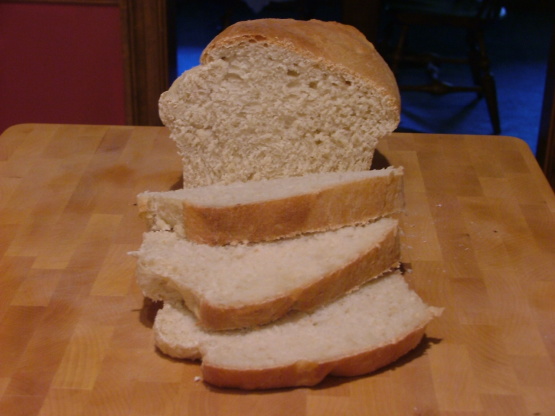 This bread makes lovely sandwiches. Rise times are included in the prep time.

Top Review by mrswaz
This bread is fantastic! It has a moist and wondeful texture, and it is so flavorful! The loaf did rise up amazingly high during baking, so next time I will make a free-form loaf, but otherwise, a definite repeater. I also think the oatmeal could be increased just a bit- that contributed so much, I would like a little more. Thanks so much for sharing this bread.
Sprinkle the yeast over the water in a small bowl; do not stir; set aside for at least 5 minutes to proof to a foamy consistency.
Stir together the flour, oats, sugar and salt in a large bowl; add the butter, buttermilk and yeast mixture and beat with an electric mixer until the ingredients are well blended.
Turn out the dough onto a floured surface and knead for about 5 minutes or until the dough is smooth and elastic.
Lightly oil a large bowl and transfer the dough to the bowl; cover with a tea towel and let the dough rise in a warm place until it is doubled in size, about 1 hour.
Pun the dough down and let it rise again, covered with a tea towel, for 45 minutes.
Preheat oven to 350° and oil a 9x5x3-inch loaf pan.
Punch the dough down again and place it in the loaf pan; bake for 35-40 minutes or till the loaf pulls away from the side of the pan and loaf sounds hollow when you thump it.