Buttermilk Cornmeal Muffins
Prep 18 mins
Cook 15 mins
These are my sister-in-law's favorite "plain" muffin and can put bakery corn muffins to shame! Cut them in half, toast them lightly, and spread with honey butter. Bite and smile:)
Directions
Preheat oven to 400*F.
Have ready 12 greased and or paper-lined muffin cups.
In a large bowl, combine the buttermilk and cornmeal; set aside.
In another bowl, combine the flour, baking powder, baking soda, salt, and sugar.
In another bowl, whisk together the egg and melted butter; add the cornmeal mixture and mix well.
Add to the flour mixture just until combined; do not overmix.
Fill prepared muffin cups 2/3 cup full; bake 15 minutes.
Serve warm.
Reviews
Most Helpful
Have made these several times, the 2nd time using mostly whole wheat flour, used only 1/4 c. sugar, substituted 1/4 c. olive oil for the melted butter. Worked fine for us! Very easy to make too.
No one cared for these mainly because we couldn't taste the corn flavor.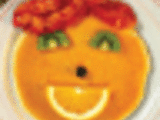 I've been trying all the pro recipes with the highest ratings but this one is by far the best. Very light, fluffy and more cake like than any one elses, so far! Thanks. Used 2% and 1 t vinegar. Used 70% noname canola marg. Still awesome! Cant wait to try them with real dairy!