vrvrvr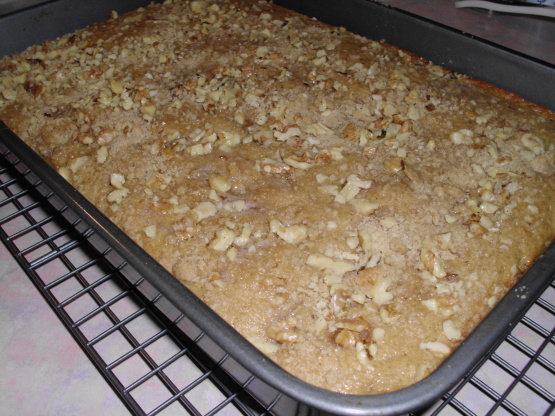 Delicious buttermilk coffee cake with a light spice flavor and a streusel-like topping. As coffee cakes go, this one has a pretty low fat content. Taken from the Better Homes and Gardens Limited Edition new cookbook.

Top Review by vrvrvr
This is a terrific coffee cake, moist and flavorful. Instead of nutmeg, I used a whole teaspoon of cinnamon. I snuck a little whole wheat flour in there, too, with no problem. After this came out of the oven I brushed it with melted butter, simply because I had some leftover from another baking project. That little swipe of butter over the top gave it a nice pop of flavor. This cake fed a weekend crowd and everyone loved it!
Preheat oven to 350ËšF. Grease bottom and 1/2 inch up the sides of a 13x9x2-inch baking pan; set aside. In a medium bowl, combine flour, brown sugar, and salt. Cut in butter until mixture resembles coarse crumbs; set aside 1/2 cup. Stir baking powder, baking soda, cinnamon, and nutmeg into remaining crumb mixture.
In another bowl, combine eggs and buttermilk. Add egg mixture all at once to flour mixture and mix until just combined. Spoon batter into prepared pan. Combine reserved crumb mixture and nuts; sprinkle over batter.
Bake at 350ËšF for 35-40 minutes, or until a wooden toothpick inserted in the center comes out clean. Serve warm.